Apply for a tuition-free doctorate in Political Science at the Massachusetts Institute of Technology (MIT) in the US: a program that seeks to push the scholarly frontier.
The MIT Political Science Luksic Fellowship, established in 2010, is granted annually to one Chilean candidate who is accepted onto the Doctorate of Political Sciences program at the Department of Political Science at MIT. The Fellowship contributes to the overall comprehensive funding package that MIT offers to all candidates on the program and in the case that a Chilean candidate is not accepted for that academic year, the Fellowship may be offered to a candidate from one of the following countries: Argentina, Brazil, Colombia, Mexico, or Panama.
How does the MIT Political Science doctoral program work?
The doctoral students at MIT explore the empirical phenomena that produce new scholarly insights—insights that MIT believes improve the way governments and societies function.
The program requires preparation in two of the following major fields: American Politics, Comparative Politics, International Relations, Models and Methods, Political Economy, or Security Studies, and MIT recommends that candidates take a broad array of courses across their two major fields. Students are also free to take subjects in other departments across the Institute.
What does the program entail?
Candidates will take classes in statistics, advanced statistics, empirical research methods, and political philosophy. First-year students also partake in a one-semester seminar that introduces the principles of empirical and theoretical analysis in political science.
Field research is also encouraged and it helps candidates to develop close working ties with faculty members engaged in major research activities. As for second-year students, there will be a second-year paper/workshop which is designed to involve students in advanced research problems under faculty supervision.
Lastly, the program incorporates two examinations (a general written and oral examination) and a doctoral thesis. The doctoral thesis requires at least one year of original research and data collection and the thesis process includes a first and second colloquium and an oral defense.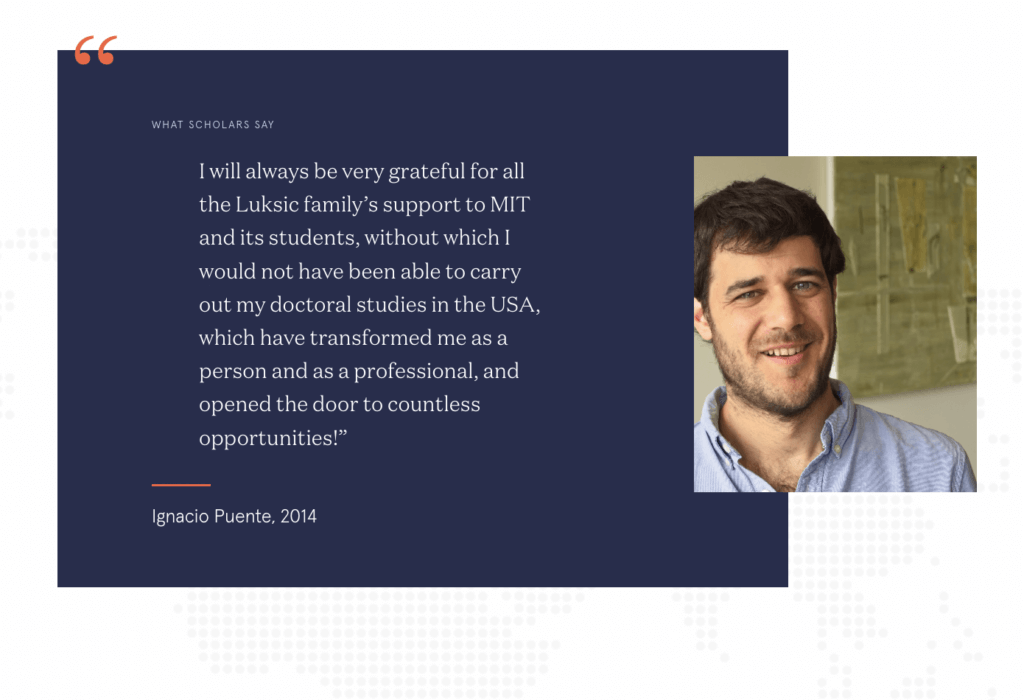 What does the program include?
The funding package provided by MIT includes 6 consecutive years of full tuition and health insurance coverage, plus a 12-month stipend in years 1-5 and a 9-month stipend in year 6, provided students remain in good academic standing. Funding consists of a combination of fellowships, research assistantships, and teaching assistantships.
Application:
The 2022-2023 admissions cycle will open on 9th October 2022. All applications for the PhD programs must be submitted online through GradApply by December 15, 2022 for Fall 2023 admission. Students are admitted as degree candidates only for September 2023.
Please check MIT's Graduate Admissions webpage for application details.
Additional resources:
– MIT Graduate Admissions FAQs
– MIT Specifications for Thesis Preparation
– Check out where MIT PhD Alumni are working around the world
---
An information session was organized between the Luksic Scholars Foundation and the Department of Political Science at MIT that took place on August 23rd, 2022. It included a presentation from MIT, as well as a conversation with two Luksic Scholars regarding the application process and their program experience. You can find the event recording here.