Luksic Scholars Foundation held a webinar called "Entrepreneurship in Changing Times", especially for the members of its platform, in which the entrepreneur Matías Muchnick, CEO and co-founder of NotCo, one of the fastest growing food technology companies in Latin America participated.
Lasting 45 minutes, the event was moderated by Felipe Magofke, Luksic Scholar since 2012, who is part of the more than 1,500 beneficiaries of this network created 20 years ago.
With a degree in finance and a business background, Muchnick assembled a scientific team that succeeded in creating a machine learning algorithm that enabled the development of plant-based products faster and more accurately than any other player on the market. With operations in Chile, Argentina and Brazil, and with four categories of products in the market, NotCo, a company founded in Chile in 2015, plans to land in the United States to continue conquering the world with its products.
"You always have to invest in technology and people, talent. Make sure that your human capital is specialized, capable. This is difficult to find in Chile, where not everyone has the mindset to dare to found a start-up. So, we need things to happen for others to happen, as in a kind of contagion … And act as a "pay it forward"", he commented, adding that it is important for him to have a diverse work team to achieve the goal of becoming a global company. "That is another issue that I notice in Chile: companies are thought to be only from and in Chile, instead of scaling internationally."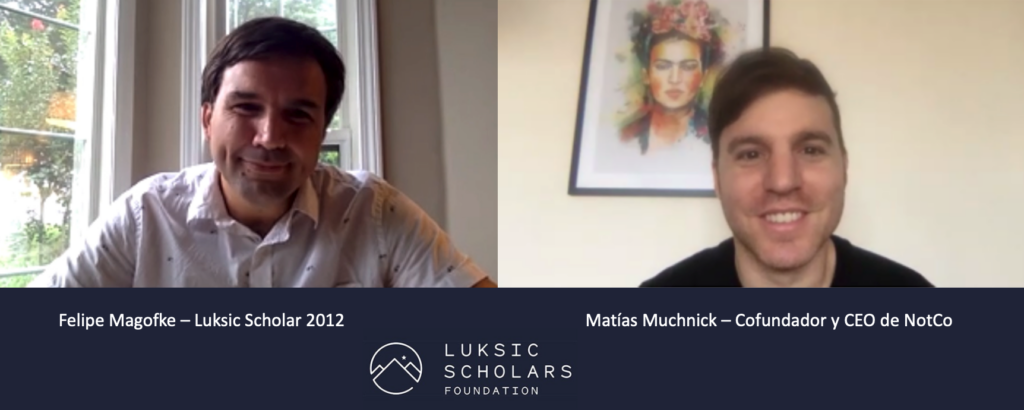 The CEO of NotCo commented on the various aspects that a Chilean entrepreneur must consider to find their own formula for success. In that sense, he stressed the importance of leaving the comfort zone, and of being curious: "You have to think about what comes next," he said.
At the webinar, Muchnick delivered four practical tips for entrepreneurs. First, he referred to the so-called "self-awareness", and explained that it is important to know who you are as a founder, and who you need to hire. He said that it is necessary to have a team of people who complement each other and who are aligned with the vision of the founder. To this, he added that one had to have a "disruptive vision" to understand what success is and thus be able to define it and communicate it to the rest. Finally, he stated that "good ideas without execution are worth zero; money and all resources are worth zero. It all comes down to being a visionary and working with those who can execute that vision for you".
At the closing remarks, Muchnick again mentioned the importance of the composition of the teams. "Have the best people in your company to be the best company," he said confidently.