Justin Gong is a Chinese exchange student studying at the Facultad de Economía y Negocios of the Universidad de Chile, from Guanghua School of Management at Peking University in Beijing. He is the second student from this school to receive the Luksic Scholarship for Chile, and he sat down recently with us to share about his first experience in Chile and South America.
Why did you want to come to Chile? What attracted you to here?
"Chile" in Chinese is called "Zhili", and is pronounced the same as "intelligent", so basically, I came to Chile to be smarter (he laughs). Also, I came here to learn about the culture. The only thing I knew about Chile was how long and narrow it is on the map, and wine. And I wanted to know the real Chile. I also wanted to come here because I worked for several years in the wine industry. I love Chilean wine – it is high quality, but not as well-known as French wine, which I think is a pity. I write as an independent collaborator in a Chinese wine magazine, so I intend to visit some vineyards here and write an article to promote Chilean wine in China.
What are the differences you have noticed between Chile and China?
The way of life. Chileans are more relaxed and enjoy life more, while we Chinese, especially in large cities, always live in a hurry, super busy every day. We do not enjoy it as much!
What is the best thing you have done in Chile so far? And the best food you tasted?
I went to Torres del Paine. Amazing, it really shocked me! The other thing is that I can experience the four seasons in one day, incredible. The people are friendly here. I took zumba and salsa classes and, although I could not understand the meaning of the songs, I could understand the attitude, the feeling that they are really happy, on the inside.
As for the food, empanadas and hot dogs but, above all, the fruit, so sweet and juicy. So much variety!
Would you recommend your friends to come to Chile? Yes, I am planning to make a series of videos that show the different perspectives of Chile, that are very vivid. There are beautiful views, food, people, festivals and more.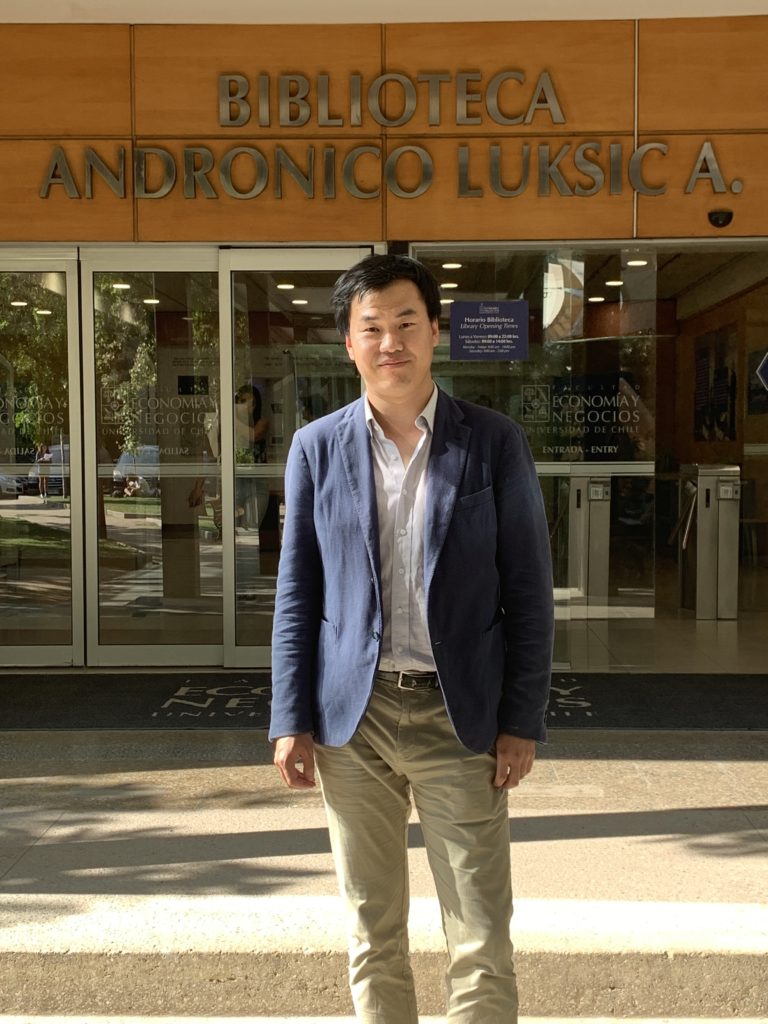 What would you say to your Chilean counterparts who will study abroad in China?
China is a mysterious country for many. It is difficult to define it with just a few words. We have a history of more than 5,000 years, a large population, and big markets. China has 56 different ethnic groups, which creates a unique multicultural environment. You have the possibility to travel through different cities, each with its own characteristics: If you like history, go to Beijing, Xi'an or Nanjing. If you prefer the international and modern style, Shanghai and Shenzhen. Nature? Yunnan, the Himalayas and Tibet, the deserts of Xinjiang, the lakes in Qinghai and ocean in Hainan!
What are your thoughts about this exchange program?
This exchange program is incredible. It has provided me with a great opportunity to look closely at Chile, not only in theory, but also in practice. To meet people with different backgrounds, to listen to different business ideas, different perspectives, from teachers, professionals and colleagues. If I had not applied for the Luksic Scholarship, I would have missed all this.
What message would you say to your friends in China and your friends in Chile?
It is simple: to those in Guanghua: come to Chile. To my Chilean friends: go to China!
Any final thoughts?
There is an old Chinese saying that says something like this: "Reading 10,000 books is not equal to walking 10,000 miles" It means that studying hard is not enough. You have to explore the world.