Movement and Presence: The Visual Culture of the Americas
marzo 30, 09:00 - Abril 1, 18:00
Convocatoria de ponencias – fecha de entrega: 7 de enero de 2022
The Institute of Fine Arts at New York University, The Graduate Center at the City University of New York, Columbia University in the City of New York, and the Institute for Studies on Latin American Art (ISLAA) are pleased to announce the Sixth Annual Symposium of Latin American Art. "Movement and Presence: The Visual Culture of the Americas" will be held on March 30, 31, and April 1, 2022. The Symposium will include keynote presentations by Dr. Denise Ferreira da Silva and Dr. Diana Taylor, and practice-based methodological workshops (details to be announced in January 2022).
The Sixth Annual Symposium of Latin American Art invites proposals from artists, activists, graduate students, and emerging scholars considering movement in the study of the art and culture of the Americas. The Symposium posits movement and presence as a set of epistemological strategies to recalibrate how art scholarship contends with objects and artworks. By foregrounding movement, the Symposium invites considerations of embodied cultural practices and performance, as well as a critical re-reading of objects, artifacts, and archives.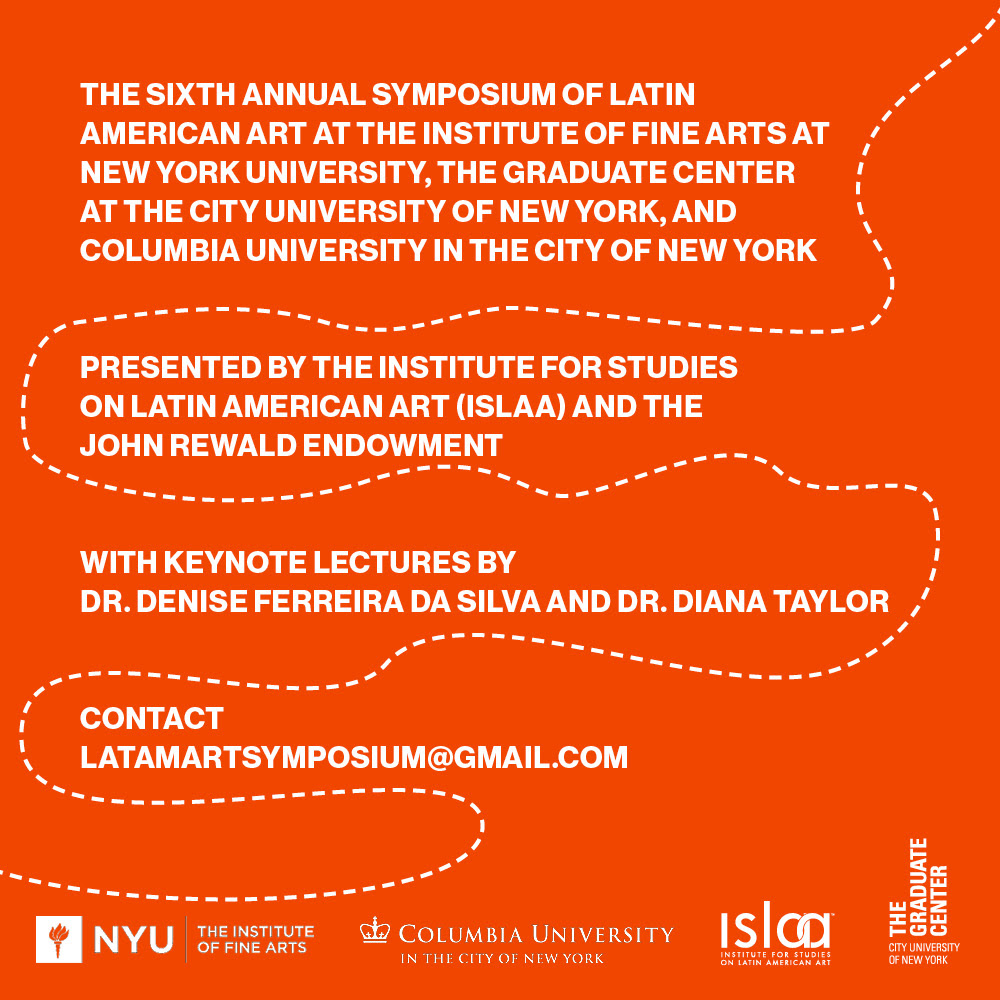 Artists, activists, graduate students, and emerging scholars are invited to apply, especially those based in Latin America and the Caribbean. Topics from all historical periods of Latin American / Latinx / Chicanx / and Caribbean art (e.g. Ancient, Colonial, Modern, Contemporary), as well as fields outside the realm of art history, but grounded in visual material (e.g. Cinema and Media Studies, Latin American and Latinx studies, Visual Culture) are highly encouraged. Abstracts will be accepted in English, Spanish, and Portuguese.
The Symposium will be accessible to participants and attendees via Zoom, and may also include in-person programming for those participants who are able and willing to travel to New York City. Further logistical details will be released to confirmed participants as soon as possible.
To apply, please submit an abstract of up to 300 words and an abbreviated CV to latamartsymposium@gmail.com by Friday, January 7. Applicants will be notified of their acceptance by Monday, January 24. Presentations will be limited to 20 minutes, with additional time for discussion. The Symposium Committee prioritizes participation from graduate students and emerging scholars across the globe. In your application, please indicate your current institutional affiliation as well as the languages you speak. Please also inform us whether it may be possible for you to visit New York City and participate in the Symposium in person, in the event that in-person or hybrid programming is possible. Please note that your ability to travel to New York will not affect the selection process for participation.
For additional information, please visit the following page: http://ifalatinamerica.org/symposium/movement-presence-the-visual-culture-of-the-americas/.
Organizado por: Columbia University