MIT innovation@work Series – Keeping our teams and our families cybersecure with Keri Pearlson
***El evento será en inglés***
Timezone in EST.
Join us for a complimentary, live webinar with Keri Pearlson, Executive Director of the Cybersecurity at MIT Sloan: The Interdisciplinary Consortium for Improving Critical Infrastructure Cybersecurity (IC)3 at the MIT Sloan School of Management.
Almost everyone is working from home these days and it's created a strange, chaotic environment for each of us, our organizations and for our families. As we all learn how to communicate, share Wi-Fi, and take meetings remotely, we must also think about keeping ourselves, our teams, and our families cybersecure. In this session, Keri Pearlson will discuss some of the current ways malicious actors are trying to get our money, steal company data and infiltrate our systems. We will also talk about actions you can take tomorrow to both raise awareness and change behaviors of those around you to keep everyone more secure.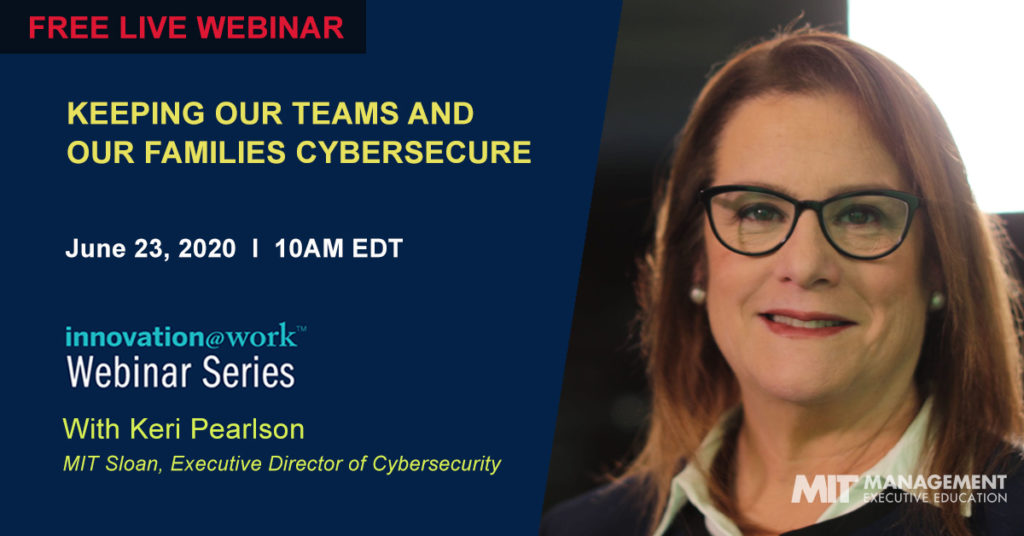 Read more about Keri Pearlson.
Thousands of people globally have registered for the MIT Sloan Executive Education INNOVATION@WORK Webinar Series. During these complimentary, live events attendees hear from MIT Sloan's renowned faculty about a variety of cutting-edge topics, including how the world's most successful organizations stay on top; how to bridge the gap that exists between IT and business leaders; and how to manage the risks and opportunities of social media in the workplace.
How to Attend
Registration is requested. Use the Sign Up link below.
Sign Up
Organizado por: MIT Management Executive Education