Doctors on the Frontline: Why Mental Health Counseling Matters
***El evento será en inglés***
Join us for an important conversation with doctors on the front line fighting against COVID-19 pandemic in China and the U.S.
Webinar will be livestreamed at 8:00 NY time (20:00 in Beijing time) and conducted in English with simultaneous translation in Chinese.
Our speakers will share their first-hand experiences in treating COVID-19 patients in severe and critical conditions, discuss the physical and psychological challenges doctors face, and examine policies and proactive actions that protect physician mental health in both countries. They will also give valuable and constructive guides to assist hospitals in improving their public health and emergency management capabilities.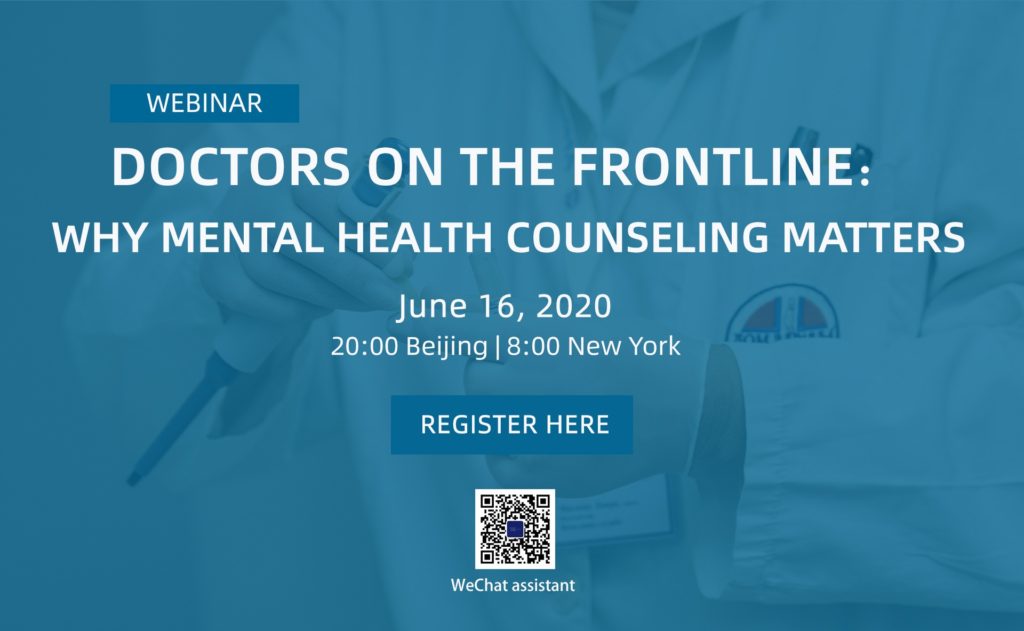 Speakers:
Anthony Puliafico, Associate Professor of Medical Psychology (in Psychiatry) at Columbia University Medical Center; Director of the Columbia University Clinic for Anxiety and Related Disorders (CUCARD)
Hongsheng REN, Deputy Director and Chief Physician of the Department of Critical Care Medicine of the Provincial Hospital Affiliated to Shandong First Medical University; Supervisor of Master Students of Cardiovascular Department and Emergency Department of Shandong University School of Medicine; Deputy Team Leader of the first-response group in Shandong Province and Team Leader of critical care physicians fighting against the COVID-19 outbreak in Wuhan
Rong Wang, Vice President and Chief Physician of the Provincial Hospital Affiliated to Shandong First Medical University; Professor and Doctoral Supervisor of Shandong University
This event is part of the Beijing Center's Health and Medicine Series Program.
How to Attend
Registration is requested. Use the Sign Up link below.
Sign Up
Organizado por: Columbia Global Centers | Beijing