Columbia University presents «Why Companies Need to Rediscover their Purpose» with Colin Mayer
***Evento será en inglés***
Timezone in EST.
In the context of the devastating economic and financial impact of Covid-19, which is testing the resilience of corporations and the way in which they address the relationship with employees and other stakeholders, Karen Poniachik, Director of Columbia University's Global Center in Santiago, and Bernardo Larraín, President of Chile's Federation of Industries Sofofa, will chair a conversation with Colin Mayer, Peter Moores Professor of Management Studies at the Saïd Business School, University of Oxford.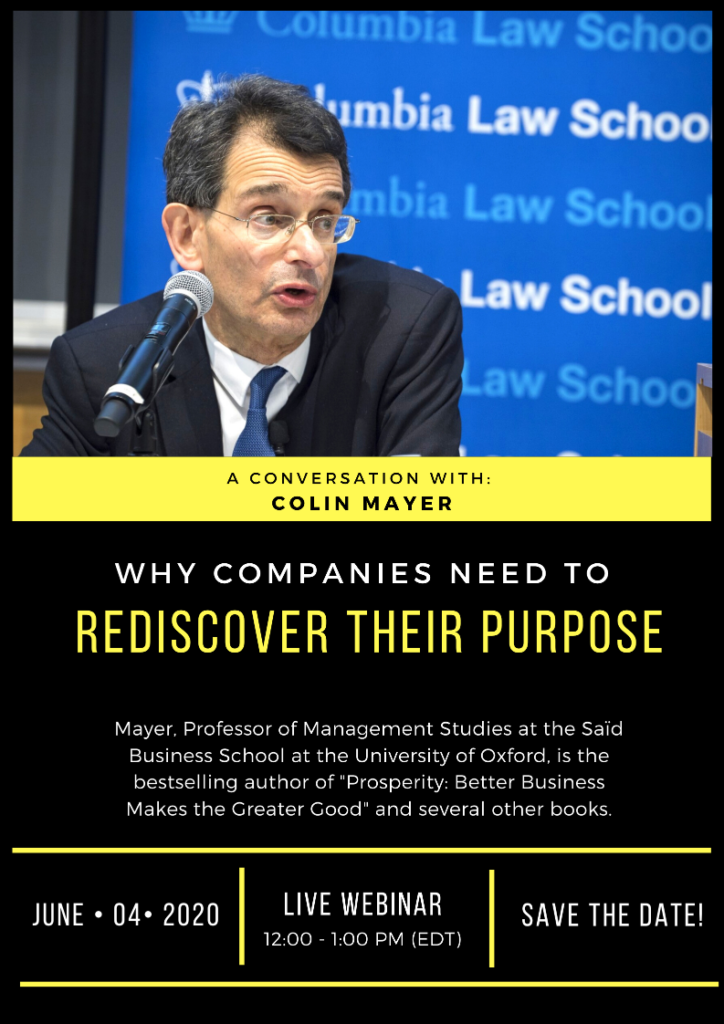 Colin Mayer:
Expert on all aspects of corporate finance, governance and taxation, the regulation of financial institutions and the role of the corporation in contemporary society.

Author of "Prosperity: Better Business Makes the Greater Good» (2018) and several other books on finance and economics.

Leads the British Academy enquiry into "The Future of the Corporation."
"We are used to business focusing on one interest group in society: shareholders. That simply cannot be right, fair or efficient. Instead, business should be structured around the question why it exists, what it is there to do, and what it aspires to become – namely its purpose – and everything should follow from that."
"It is no longer a question of whether and why to change, but what and how to do it. At the heart of this lies a clear notion of purpose that it is neither purely descriptive of what a company does, such as making washing machines or cars, nor purely aspirational, such as seeking to save the world. It is about precise descriptions of what problems companies are solving, for whom, how, when and why they are best suited to do that."
How to Attend
Registration is required. Use the Sign Up link below.
Sign Up
Organizado por: Columbia Global Centers - Santiago