A New, Post-Covid Economic Consensus for Latin America?
septiembre 2, 11:00 - 12:00
*Simultaneous English-Spanish interpretation will be available.
*Timezone: EST.
Led by José Antonio Ocampo and Ramon Casilda Béjar, thirty one economists and former public officials recently published a manifesto of 18 recommendations for a new Latin American economic consensus (iberoame.usal.es).
This webinar will explore their new policy paradigm in tackling the region's post-covid economic and social urgencies.
Speakers:
– Ramon Casilda Béjar, Professor, Latin American Studies Institute, University of Alcalá; Former Director, Santander Group School of Business Administration, Nebrija University
– Stephany Griffith-Jones, Director, Financial Markets Program, Initiative for Policy Dialogue, Columbia University; Prof. Emeritus, University of Sussex
– José Antonio Ocampo, Professor, Columbia University; Chair, UN Committee for Development Policy; Former Minister of Finance, Colombia
– Ken Frankel, President, Canadian Council for the Americas (moderator)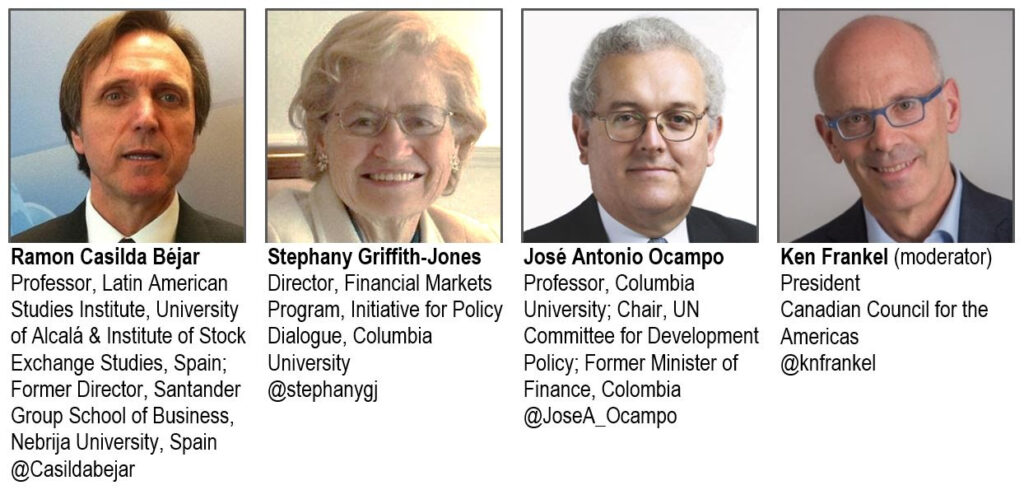 How to Attend
Registration is requested. Use the Sign Up link below.
Sign Up
Organizado por: Columbia Global Centers | Santiago