What can we expect from COP26?
October 29, 09:00 - 10:00
Timezone: EST
From October 31 through November 12, all eyes will be on Glasgow, Scotland, where the 2021 United Nations Climate Change Conference, COP26, will be held. Addressing the climate crisis is one of the biggest challenges facing our world today. But will conference participants come to the table with commitments that will keep global warming to 1.5°C? How will countries reach net-zero emissions targets?
Three environmental experts from Columbia's International Research Institute for Climate and Society (IRI) will share their insights and expectations for this globally critical conference.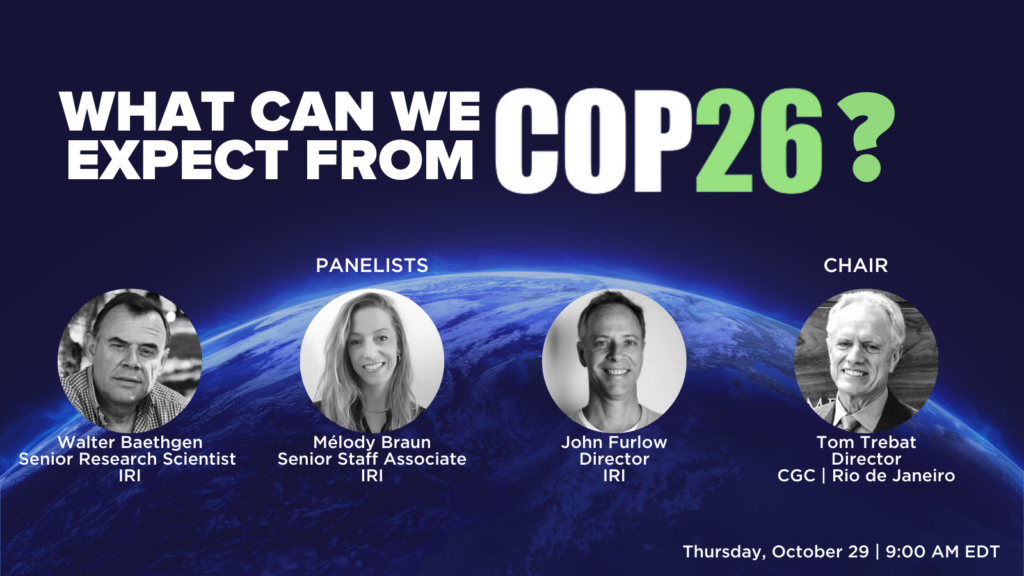 Panelists:
Walter Baethgen, Senior Research Scientist, Director of the Regional and Sectoral Research Program, IRI
Mélody Braun, Senior Staff Associate, IRI
John Furlow, Director, IRI
Chaired by:
Tom Trebat, Director, Columbia Global Centers | Rio de Janeiro
How to Attend
Registration is requested. Use the Sign Up link below.
Sign Up
Organized By: Columbia Global Centers | Santiago