Stanford HAI — Workshop on Foundation Models
August 23, 12:30 - August 24, 17:30
Timezone: PST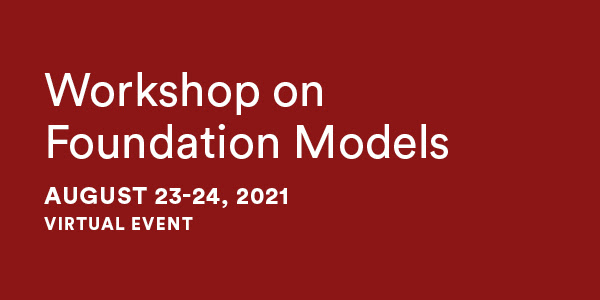 The Center for Research on Foundation Models (CRFM), a new initiative out of the Stanford Institute for Human-Centered Artificial Intelligence (HAI), invites you to the Workshop on Foundation Models from August 23-24, 2021. By foundation model (e.g. BERT, GPT-3, DALL-E), we mean a single model that is trained on raw data, potentially across multiple modalities, which can be usefully adapted to a wide range of tasks. These models have demonstrated clear potential, which we see as the beginnings of a sweeping paradigm shift in AI. They represent a dramatic increase in capability in terms of accuracy, generation quality, and extrapolation to new tasks, but they also pose clear risks such as use for widespread disinformation, potential exacerbation of historical inequities, and problematic centralization of power.
Given their anticipated impact, we invite you to join us at this workshop, where scholars reflecting a diverse array of perspectives, disciplinary backgrounds (e.g. social science, economics, computer science, law, philosophy, information science) and sectors (academia and industry) will convene to provide vital expertise on the many dimensions of foundation models. Broadly, we will address the opportunities, challenges, limitations, and societal impact of foundation models. Given that future AI systems will likely rely heavily on foundation models, it is imperative that we, as a community, come together to develop more rigorous principles for foundation models and guidance for their responsible development and deployment.
Please click here to find the workshop's agenda and list of keynote speakers.
How to Attend
Registration is requested. Use the Sign Up link below.
Sign Up
Organized By: Stanford HAI - Center for Research on Foundation Models (CRFM)