National Environmental Justice Education and Teaching Workshop
September 15, 09:00 - 12:00
Timezone: PST
Stanford University welcomes you to join a diverse group of engaged EJ educators and community leaders as we listen, share, and deepen our learning and connections with each other around best practices and approaches for teaching environmental justice in our institutions and communities. All are welcome, even if you have never taught EJ before! This event will be virtual and those who RSVP will receive the information to connect on the day of the event.
We'll begin with an EJ Educator panel from 9-10:30 a.m., featuring nationally renowned EJ teachers Dr. David Pellow and Dr. Julie Sze, as well as Adriana Fernandez of Nuestra Casa's EJ Parent Academy, among others! We'll follow this panel with focused and facilitated breakout rooms. These include Outdoor Education & EJ; Teaching Food Justice; Indigenous-led curriculum; Teaching Water Justice; Urban EJ in the classroom; Teaching Climate Justice; Teaching EJ to the green jobs pipeline; and Teaching Global-local connections with toxins, air, health. Breakout rooms will run for approximately one hour, from 10:45 to 11:45 a.m.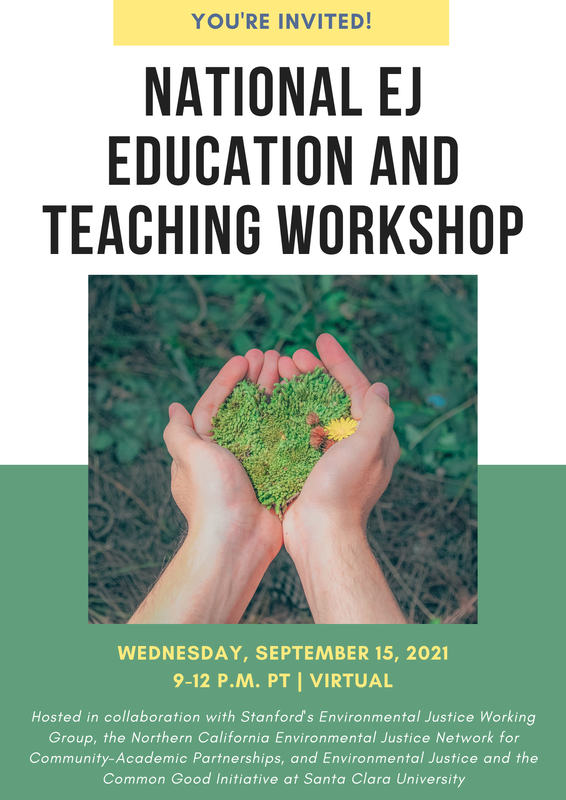 For more information, please click here.
How to Attend
Registration is requested. Use the Sign Up link below.
Sign Up
Organized By: Stanford's Environmental Justice Working Group (EJWG)