Timezone: PST
Join Stanford in New York for a discussion with Gabriela Bhaskar, Priska Neeley, Mark Vancleave and Danielle Jackson about on-the-ground journalism today. This panel will explore perspectives and experiences from journalists working in different mediums during this past year of unprecedented turmoil. From Covid-19, to the election, to protests for racial justice and other stories, these journalists will discuss how the profession continues to change, tenets of journalism and reporting that have been compromised, current labor conditions and protections, and how to advocate for oneself in the profession.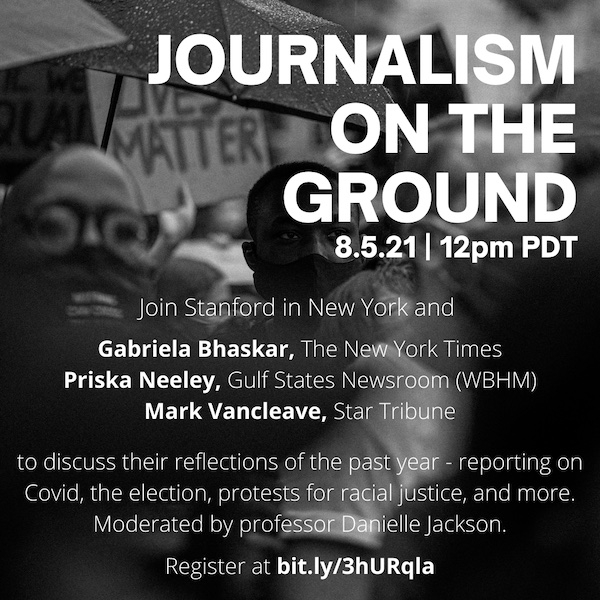 Priska Neely is the managing editor for the Gulf States Newsroom, a collaboration between NPR and member stations in Alabama, Louisiana and Mississippi. Previously she worked at Reveal from the Center for Investigative Reporting and KPCC in Los Angeles, where she reported extensively on maternal and infant mortality in the Black community. Before that, she worked at NPR in Los Angeles and Washington, D.C. 
Mark Vancleave is a video journalist at the Star Tribune covering breaking news, features, and investigative projects. His work includes reporting on inequities in disabled Minnesotans' access to jobs, families' ability to intervene when elderly loved ones face abuse and neglect in care homes and civilian deaths at the hands of police–including the recent killing of George Floyd.
How to Attend
Registration is requested. Use the Sign Up link below.
Sign Up
Organized By: Stanford in New York