A new fundamental theory of physics and its implications for astrophysics and cosmology | Stephen Wolfram, Founder and CEO of Wolfram Research
Timezone in EST.
LANGUAGE: The talk will be in English with simultaneous translation into Spanish.
CHARLA BILINGÜE: La charla se dará en Inglés con traducción simultánea al Español.
—————————–
Golden Week of Webinars in Astrophysics
June 11th: Stephen Wolfram — Founder & CEO of Wolfram Research (Head of the Wolfram Physics Project) — will be giving a talk entitled "A New Fundamental Theory of Physics and its implications for Astrophysics & Cosmology".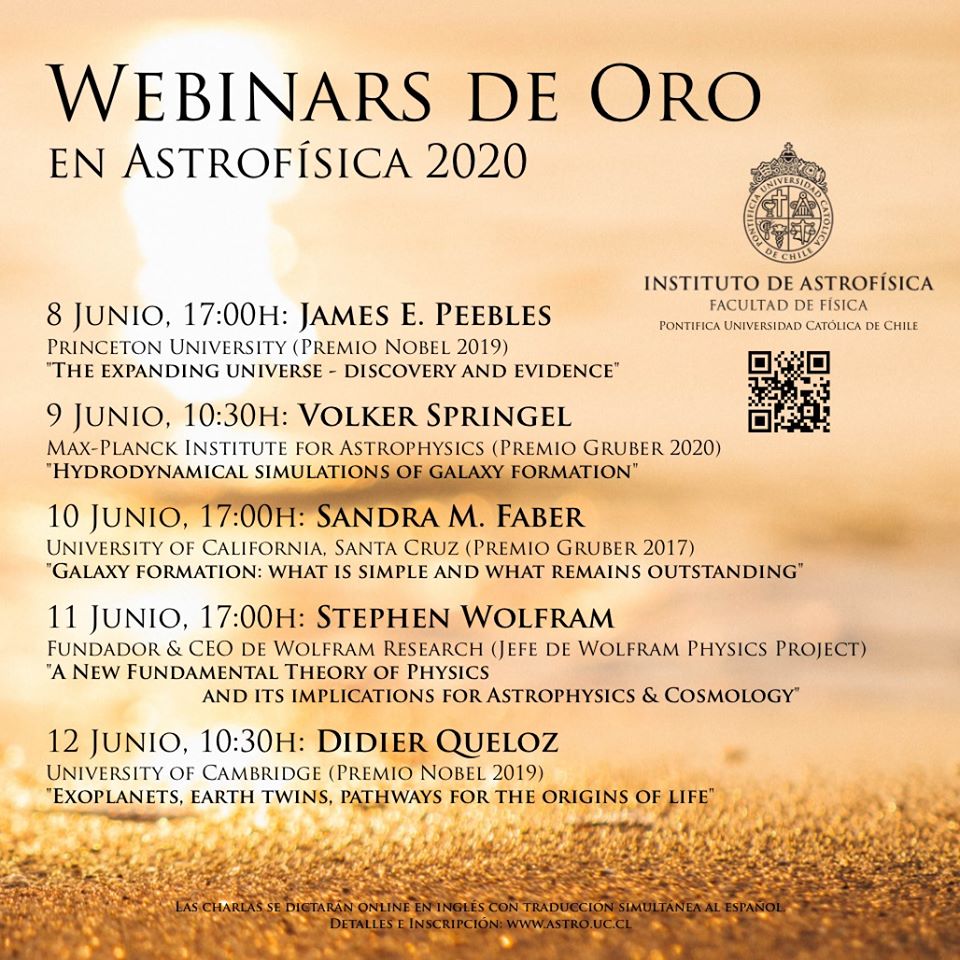 La semana del 8 al 12 de junio de 2020 el Instituto de Astrofísica de la Pontificia Universidad Católica de Chile, con el apoyo del Centro de Astrofísica y Tecnologías Afines CATA y la Vicerrectoría de Investigación UC, realizará una serie de "Webinars de Oro en Astrofísica" para presentar las últimas investigaciones en el área de boca de los científicos que las han realizado. Varios de ellos han recibido el Premio Nobel en Física o el Premio Gruber en Cosmología y han contribuido con nuevas ideas revolucionarias que están iluminando la naturaleza de nuestra realidad.
Todas las charlas se realizarán en inglés, con traducción simultánea al español (por Patricio González Guzmán, intérprete y Gerente de Serendipia Soluciones).
How to Attend
Registration is requested. Use the Sign Up link below.
Sign Up
Organized By: Pontificia Universidad Católica de Chile