How the Food System Can Contribute to Global Ambition on Climate Change
Timezone: EST
Roughly one-third of greenhouse gas emissions come from the food system. The food system and energy system are deeply intertwined, with energy inputs playing a central role in food production, distribution, processing, preparation, and disposal. Following the April 22 Leaders Summit on Climate, the Center on Global Energy Policy will host a dialogue on reducing greenhouse gas emissions from the food system while promoting public health, rural livelihoods, and other important goals.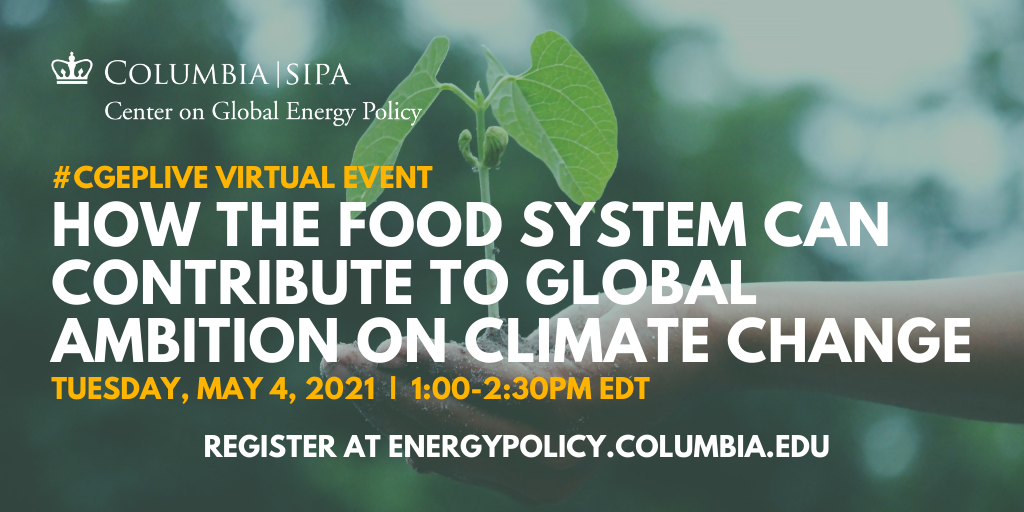 Moderator:
-David Sandalow, Inaugural Fellow, Center on Global Energy Policy at Columbia SIPA
Speakers:
-William Hohenstein, Director, Office of Energy and Environmental Policy, US Department of Agriculture
-Cynthia Rosenzweig, Senior Research Scientist, NASA Goddard Institute for Space Studies and Co-Leader, AgMIP
-David Wallerstein, Chief Exploration Officer, Tencent; Author, "Rearchitecting Earth: AI for Food-Energy-Water"; Producer, Day Zero
How to Attend
Registration is requested. Use the Sign Up link below.
Sign Up
Organized By: Center on Global Energy Policy at Columbia SIPA