Free Speech Norms in the 21st Century: Regardless of Frontiers or Guarded by Borders?
December 16, 10:00 - 11:00
Timezone: EST
Have global norms on freedom of expression and information truly been established? President Bollinger and Dr. Callamard will critically address this question and evaluate which actors and institutions have contributed to developing these norms, and which ones are undermining and constraining them. As they reflect on events and developments of the last 70 years, the speakers will discuss the future of free speech in a global context.

To mark the launch of their forthcoming edited volume Regardless of Frontiers: Global Freedom of Expression in a Troubled World, join Columbia University President Lee C. Bollinger and Dr. Agnès Callamard, Director of Columbia University Global Freedom of Expression, in a conversation moderated by Professor Mark Mazower, Director of the Institute for Ideas and Imagination.
Welcome and introduction by Professor Safwan M. Masri, Executive Vice President for Global Centers and Global Development.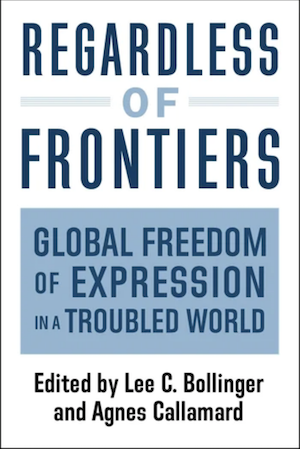 How to Attend
Registration is requested. Use the Sign Up link below.
Sign Up
Organized By: Columbia Global Centers | Santiago