China-Chile Week: Science & Technology Innovation
December 18, 09:00 - 10:00
Timezone: CLST
Language: English / español
Webinar on "Science & Technology Innovation", led by Professor Francisco Martínez (Dean, UChile's School of Engineering and Science). It will include presentations of Corfo's Engineering 2030 Program (Marcia Varela), implemented at UChile (James McPhee), PUC (María Molinos), UdeC (Claudio Zaror).
It will be followed by a presentation on the collaboration between Huawei (Jean Wang) and UChile (Luis Vargas) as well as discussions surrounding the collaboration between DiDi (Felipe Simonsohn) and UChile (Marcela Munizaga) on Smart Transport, and the collaboration between Supcon (Jonny Liu) and UChile (Marcelo Matus) on Solar Energy. There will also be a presentation on Tsinghua's technology transfer schemes (Ming Yang, President, Tus Science & Technology Service Group).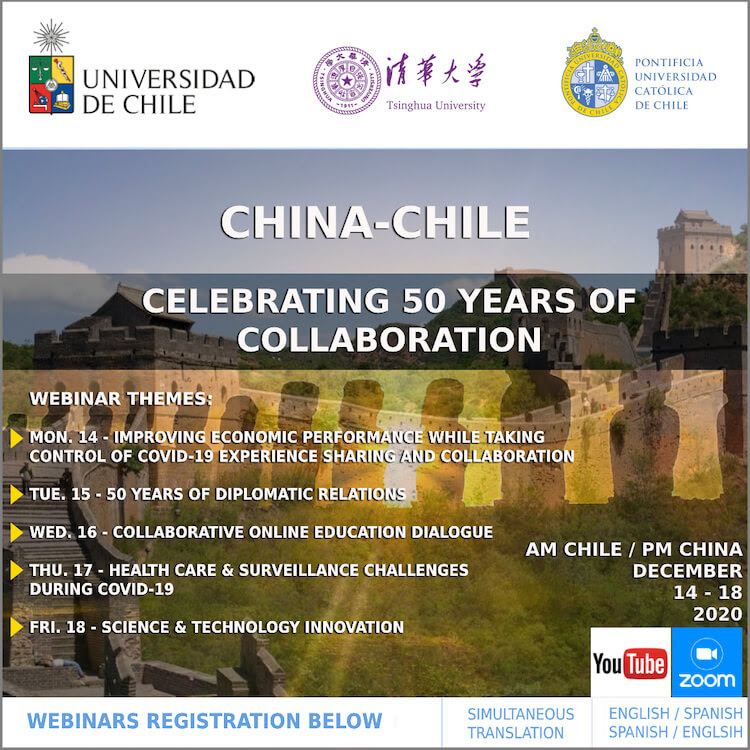 How to Attend
Registration is requested. Use the Sign Up link below.
Sign Up
Organized By: Tsinghua University