China-Chile Week: Forum Opening – Improving economic performance while taking control of Covid-19
December 14, 09:30 - 11:00
TImezone: CLST
This webinar aims at sharing experiences on the economic impact of Covid on Chile and China, as well as discussion areas of collaboration in order to enhance the recovery. Led by Professor Sebastián Claro (PUC).
Keynote speakers: Professor Taotao Chen, Tsinghua University; Professor Sebastián Claro (PUC).
Invited panelists: Jorge O'Ryan, general director ProChile, Oscar Hasbún, CEO of CSAV, and Zhang Pu, President of China Construction Bank Chile Branch, President of Chinese Enterprise Association of Chile.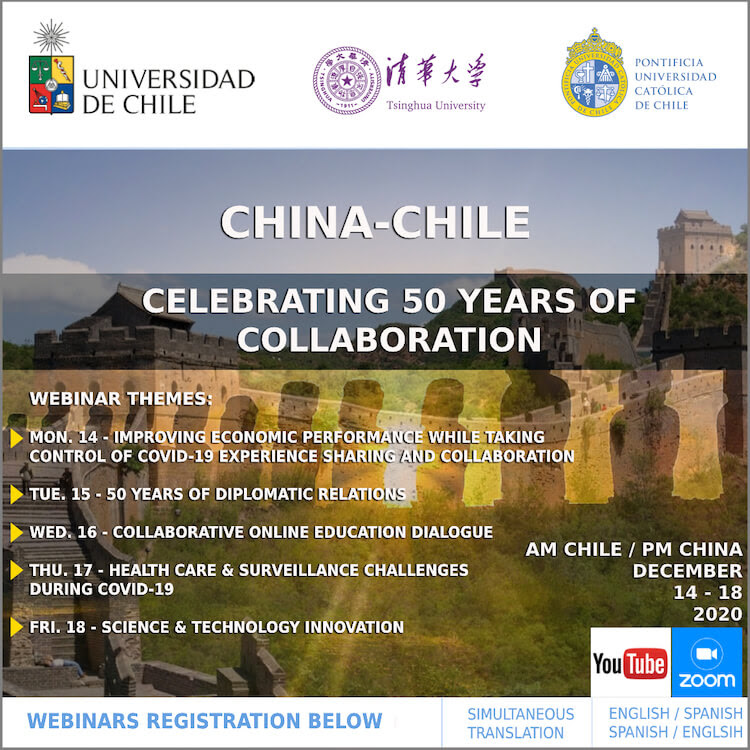 09:30-10:00 Chile (20:30-21:00 China) 
Forum Opening Ceremony with remote participation of the 3 Presidents (Tsinghua, PUC, UChile), with the presence of China Embassy in Santiago (Zhou Yi) and Chile Embassy in Beijing (Rodrigo Toledo).
10:00-11:00 Chile (21:00-22:00 China)
PUC Webinar "Improving economic performance while taking control of Covid-19 — experience sharing and collaboration".
How to Attend
Registration is requested. Use the Sign Up link below.
Sign Up
Organized By: Tsinghua University