China-Chile Week: 50 years of diplomatic relations
December 15, 09:00 - 10:00
Timezone: CLST
Language: English / español
Webinar on "China-Chile Diplomatic Relations" introducing the newly released book "50 years of diplomatic relations between Chile and China: an integral approach" with prologue by Mr. Andrés Allamand (Minister of Foreign Affairs, Chile), led by Professor Dorotea López (Director, UChile's Institute of International Studies).
Opening Remarks from Minister Allamand and President Ennio Vivaldi (UChile) followed by general remarks from Fudan (Zhimin Chen) and Tsinghua (Taotao Chen) and book comments by PUC (María Montt) and UChile (Andrés Bórquez).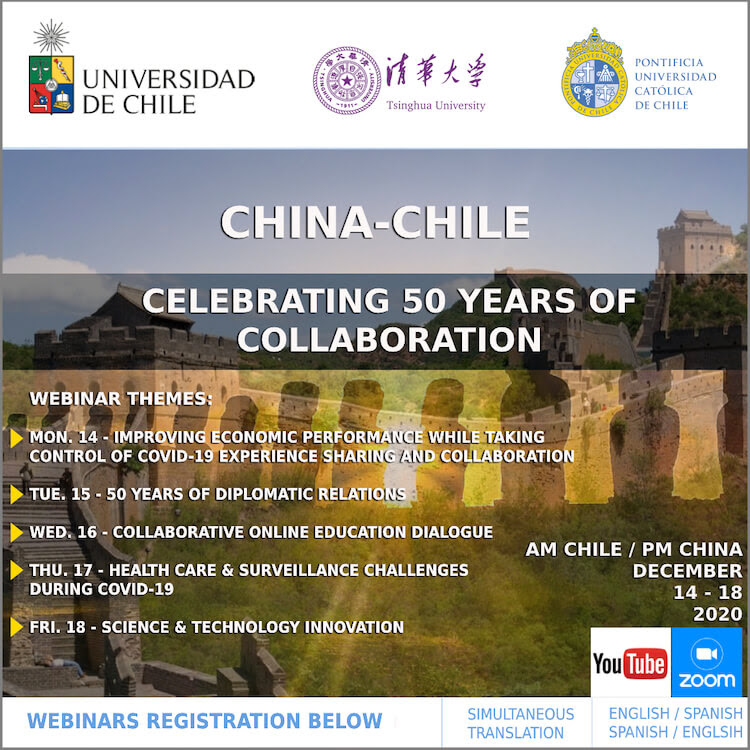 How to Attend
Registration is requested. Use the Sign Up link below.
Sign Up
Organized By: Tsinghua University