China-Chile Online Education Dialogue: Envisioning a Shared Future for Higher Education
December 16, 09:00 - 10:00
Timezone: CLST
Language: English / español
This webinar on "Collective Online Education Dialogue" will be led by Professor Rosa Deves and will talk about a shared future for higher education through a three-part panel discussion on our past (pre-Covid), our present (Covid, the new normal), and our future (post-Covid) with presentations from UChile (Rosa Deves, Eduardo Vera, Carlos Rilling, Cecilia Saint-Pierre), Tsinghua (Taotao Chen, Jing Qian, Xiaoxiao Wang, Enoch Wong), Zhejiang University (Zhi Lin), Shanghai Jiao Tong University (Feng Chen), Peking University (Kaigui Bian), PUC (Magdalena Claro), and UdeC (Carola Bruna).
One student from Tsinghua and two from UChile (Sofía Muñoz, David Quintana) will participate in the third panel to describe their own experience and how online education could be improved.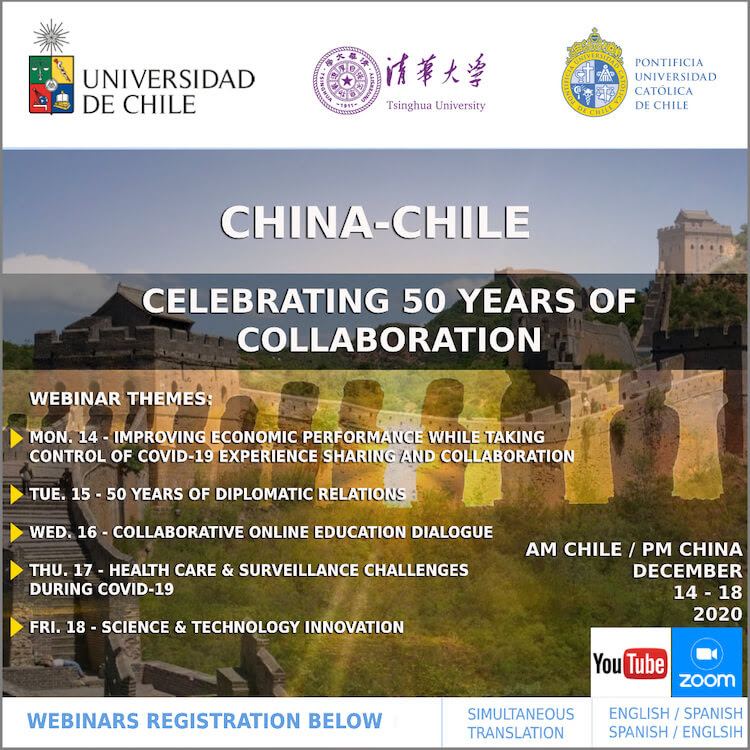 How to Attend
Registration is requested. Use the Sign Up link below.
Sign Up
Organized By: Tsinghua University